Spanischkurse in Buenos Aires und in Bariloche
Wir bieten Spanischkurse für Jugendliche und Erwachsene in Argentinien, alle Stufen, Gruppen oder Einzelreisenden. Beginn jederzeit, ganzjährig möglich. Die Schulen befinden sich in der Hauptstadt Buenos Aires oder in Patagonien im beliebten Wander- und Wintersportort Bariloche. Auf Wunsch ist es auch möglich, andere Studienorte wie z. B.: Mendoza, Salta oder San Juan zu wählen. Wir sind Ihnen auch gern behilflich bei der Organisation einer Rundreise durch Argentinien.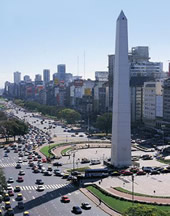 CADI offers spanish courses in Bariloche, Buenos Aires,Cordoba and Mendoza
Intensive Spanish Program
CADI Intensive Program has been designed to learn Spanish quickly and easily. We aim at promoting the use of the language from the very first day. We focus on developing written and oral expression skills, so that you became able to make your own productions with a correct use of grammar, vocabulary and linguistic resources.
CADI offers a wide range of Spanish immersion programs for you can choose the ones that suit you best: daily lessons, recreational activities, volunteer work and homestays. Thus, you practice what you learn at school in real life situations and intensify your language experience.
The complete Spanish program at CADISchool is 8 weeks' duration. Nonetheless, each level finishes every week, so you can decide how many weeks / levels you want to take at CADI, according to your time in Argentina and preferences.
It is also possible to continue the same Spanish program in Buenos Aires, Mendoza or Cordoba.
Teaching methology at CADI Spanish School, Bariloche, ensures that our students enjoy a range of resources that are adapted to their needs and that promote their constant progress beyond their expectations.
• Our Goal: A real immersion experience
The school's commitment and mission towards the Spanish program goes beyond language teaching.
Our lessons aim to introduce new grammar and vocabulary through topics that contain information
about local customs and traditions, to encourage the students to interact with locals
and make a real immersion experience.
• Fun & outdoor activties
Bearing in mind that students also want to have fun, we offer after-school activities such as tango
lessons and visits to breweries, as well as those related to ecotourism, adventure and traditional
excursions.
• Facilities designed to feel like at home
At BSL we understand that living in a foreign country can be a challenging experience. We want
our students to feel at home in Bariloche and that goal has inspired us to design a cozy space to
study in a friendly atmosphere.
Staff & Teachers
All of our teachers are native Spanish speakers and are highly qualified and experienced in teaching
Spanish as a second language. They all receive ongoing training on new methodologies
and contents.
Not only the school offers a high level of academic knowledge but it also makes sure professionals
are carefully chosen as well as family homes, guides and personnel which will be accompanying
students during their stay in the city and their stay at our school and who will offer students
an unforgettable experience they will certainly want to experience again.
School facilities
The main building of the school can house 15 students simultaneously. Sometimes, when the
number of students is bigger, we also have other classrooms near the building which are also
well-equipped and ready for a normal development of the lesson. As to equipment, the classrooms
have:
• Audio system
• TV
• DVD
• Free Wi-Fi.
In order to help our students deal easily with the experience of visiting a new country with completely
different customs, we adapt the conditions of our school to prove warmth and comfort and
make them feel like at home.
Immersed in a very friendly atmosphere and between beautiful natural sights, students will be
able to study and enjoying, at the same time, from a nice aromatic coffee and the interaction as if
they were among their friends.
Levels
Our regular course of Spanish as a foreign language is divided into eight levels, as per the guidelines
established by the Cervantes Institute for the European Shared Framework.
Levels A1, A2, B1, B2, C1, C2 are divided in the following way:
- Intermediate level is divided into: Intermediate I
and II.
- Advanced level is divided into: Advanced I and II.
Level organization allows students to obtain a
level per week which also allows them to continue with their studies in different destinations.
We also offer programs with less daily credit hour for students who also want to develop different
cultural or sports activities during their stay.
Special programs
Spanish for specific purposes
Spanish for Travelers:
It combines lessons at school with real experience. Every morning,
lesson divides into two: during the first two hours, students learn new vocabulary and useful phrases.
They practise them through role-playings and group activities. In the last hour, they go out
with their teacher to have "hands on experience" of what they have learnt. They go to stores to
buy things, to the bus station to take a ticket or to a hostel to book a room. With the help of a teacher
they communicate with locals and acquire self-confidence in everyday situations.
Spanish and ski:
This winter program offers a
special Spanish schedule and 10% discount on ski
passes and rentals for students that love skiing, snowboarding
and enjoying outdoor winter sports.
Spanish and surf or kite surf:
This summer program consists on intensive Spanish lessons
plus Surfing or Kite surfing lessons on the beautiful Nahuel Huapi lake.
Spanish and fly-fishing:
This is another summer program that combines intensive Spanish
lessons with fly-fishing excursions to the many lakes and rivers with the company of experts on the
area.
Spanish and photography:
This all-year-round program combines intensive Spanish lessons
with photography lessons on all levels. It includes group photography trips around Bariloche,
with amazing sceneries to shoot.
Spanish for families:
This program includes intensive Spanish lesson for the parents and
special lessons for the children. Children require different methodologies and learning rhythm,
they learn through games, songs, fieldtrips, plays, recordings and many other didactic resources
according to their age and interests.
Spanish for new residents: Students who plan to stay
and get a job in Argentina need a more intensive and quicker
immersion in local culture and customs as well as in the
everyday language. Lessons are private or semi-private.
Spanish and volunteer work: This program is a combination of Spanish lessons and volunteering
projects organized by BSL. Students can apply for any of the projects available. They
are all toll free for students.
Preparation for DELE and CELU examination
Preparation for DELE examination:
DELE (Diploma
de Español como Lengua Extranjera) is the official diploma
issued by the Ministry of Education and Culture of
Spain to prove competence and command of the Spanish
Language. It is internationally acknowledged. In Argentina,
there are 5 authorized examination centres. BSL Spanish
School prepares students for DELE exam, using material
given by the Cervantes Institute from Spain.
Preparation for CELU examination:
CELU (Certificado de Español, Lengua y Uso) is
the only examination officially acknowledged by the Argentinean Ministry of Education and the Argentinean
Ministry of International Relations and Cult. Internationally, it is acknowledged by the
Governments of Brasil, France, Germany and China.
SEMBRAR
Volunteering Native Andean-Patagonian Forest Restoration Project
The Civil Partnership "Sembrar" promotes environmental value, particularly the native forest. In
order of that, it works with two objectives: Andean Forest recovery and environmental education. It
reproduces native species and conducts research on their propagation and growth, increasing
year by year the number of species. In its forestall greenhouse, "Sembrar counts with 50.000 native
plants of more than 30 different species.
"Sembrar" offers the possibility of developing a volunteer in its forestall greenhouse performing all
the maintenance, care and native plants classification work and its tasks with renewable energy
that are taking place in its own greenhouse.
NAHUEL HUAPI NATIONAL PARK
Nahuel Huapi National Park Organization provides volunteers with training, accommodation and
transportation FREE of charge but does not provide meals.
Volunteers will assist visitors, patrol and help with the maintenance of the tracks, detect problems,
take care of the historial museum, help with animals maintenance, etc. During their stay,
they live with argentinean "guardaparques" and other local volunteers who are training to be park
rangers.
Period: all year round, especially from December to February
• Homestay
Staying with a local family is the best option to practice
Spanish, experience the Argentinean life style and customs
and participate in conversations while sharing homemade dinners.
CADI's host families have been carefully selected and have a long time experience in hosting students.
They are located in a nice and safe residential area in Bariloche, only a few minutes' walk
from the school, on the way to the Catedral ski resort and very close to the city center.
Since these are houses, not apartments, they are perfect to relax and enjoy the Patagonian nature.
They all have a yard as well as views to the Lake Nahuel Huapi, the woods and the mountains.
In addition, they provide students with homemade breakfasts and dinners and all the
facilities to make their stay more comfortable.
• Private / Shared apartments
For those who prefer independence and privacy, there are several options of shared and private
apartments. Students can choose from apartments located close to the school or in the city center
(subject to availability).
They are all comfortably furnished and well equipped. Some of them offer cable TV, WIFI, jacuzzi
and microwave.
• Hotels & Cabins
We provide information about Cabins and Hotels located very close to our school. Their prices
vary according to categories, facilities and season.
BARILOCHE – PATAGONIA ARGENTINA
Nestled in the foothills of the Andes by the picturesque lake Nahuel Huapi, in the West of the Province
of Río Negro and 1,640 kilometers away from Buenos Aires, Bariloche offers all the services
and amenities necessary for the around 800,000 visitors per year that choose this place to
relax and enjoy outdoors. Also known as "La Capital de los Lagos," or the capital of the lake region,
it has been blessed with outstanding natural beauty, stunning views and endless countryside
to explore. There is a wide range of outdoor activities on offer all year round and in the
winter it is South America's major ski resort. One can also find excellent restaurants and bars as
well as a vibrant nightlife. Moreover, Bariloche is a very important pole of scientific and technological
development on a national and international level, which contributes to make this city an
even more interesting destination to study Spanish in Argentina.
Location:
San Carlos de Bariloche is located in the South American Argentine Republic. This is one of the
most important tourist resorts in Argentina and the entrance gate to Argentine Patagonia.
The City is located on the south shore of the Nahuel Huapi lake, within the Nahuel Huapi National
Park, at 41º South Latitude and 764 meters (2,506 feet) above sea level.
Distance from Buenos Aires: 1650 km
• By plane: between 1:30 and 2 hours
• By car: between 17 and 20 hours
• By bus: between 19 and 22 hours
.
[*Fügen Sie hier am Besten eine Anfahrtsskizze etc. ein.*]